Posts Tagged 'Cavs'
Mo Williams, the starting PG for the Cleveland Cavaliers recently commented that after the 'Decision', he lost the love for the game and actually seriously considered retirement at the age of 27. These comments, when considered from an outside perspective might seem a bit dramatic and over the top given the actual circumstances. A superstar teammate left his team in Free Agency to join 2 other stars. Mo has drawn incredible ridicule by several NBA players and media outlets. Namely, Chris Douglas Roberts of the Nets openly criticized Mo and laughed at Mo's personal situation via Twitter. Brandon Jennings, who also has little room to criticize anyone, openly mocked Mo via Twitter.
I have several thoughts about Chris Douglas Roberts' comments and others who have criticized Mo. First, Chris Douglass Roberts has absolutely NO right to comment on another man's personal situation. CDR is a complete BUST after being drafted by the Nets in the 2nd round in 2008 averaging less than 8 points per game. Due to his poor performance and apparently poor character and work ethic, the Nets benched him in the second half of the season and traded him to Milwaukee this summer. CDR has also been linked to LeBron James where he admitted that when he 17 and being recruited to Memphis, that LeBron flew him on a private jet for a Minnesota vs. Denver playoff game. Obviously, this would have created significant NCAA issues, but it also explains the link between the two and why CDR might be so openly critical of Mo Williams for his reaction to LeBron leaving.
So, first of all, CDR is a SCRUB and has no right to be critical of anyone given his career performance. Second, it's my opinion that no man should criticize another man's personal situation if you're not directly involved. Finally, CDR has no idea what happened in Cleveland, the true cause for Mo's retirement contemplation, and the things Mo has gone through personally with his family. This applies to CDR, Brandon Jennings, and anyone else who criticizes and/or mocks Mo Williams for his personal situation.
Aside from the general belief that people from the outside looking in, have no right to comment or criticize on someone's personal issues, it is also clear that those criticizing Mo have NO clue what actually happened over the years. For Cleveland fans, this is not new information, but Mo Williams and LeBron James were very close friends. LeBron lobbied for the trade to bring Mo to Cleveland, they were very close and LeBron 'appeared' to consider just about everyone on the team a true friend. The team routinely went out together to dinner, movies, various outings. LeBron's words and actions lead everyone to believe that the team was extremely tight and had incredible chemistry. From hanging out outside of the facility, to joking around in the locker room and on the court, to the pre-game routines spearheaded by LeBron where he would have the team pose for mock pictures, to the personalized handshakes, LeBron appeared to everyone to be a true friend.
There were several Cavs that were by all accounts extremely close with LeBron including J.J. Hickson, Jawad Williams, Boobie Gibson, and Mo Williams. Perhaps none appeared to be as close to LeBron as Mo. They worked out together in the off-season, met each other's families, and shared personal information, just like friends do. LeBron's pull as to the playing time and/or acquisition of his friends cannot be ignored. It was clear that coach Brown wasn't ready to give J.J. big minutes as he was still developing and we had an abundance of experience on the team. It was also clear that Coach Brown wasn't ready to give Jawad significant minutes for the same reasons. Due to LeBron's "Friendship" with these guys, they were suddenly given an increased role and played more minutes. One odd item of note, is the acquisition of Shaq. LeBron publicly insisted that he was ecstatic about the acquisition and welcomed Shaq. However, given his history, if this were true, LeBron would have openly lobbied for his signing and he would have been in touch with Shaq recruiting him to the organization. At Shaq's welcome conference, he indicated that he had not heard from LeBron. It crossed my mind at the time, but I was still blinded by LeBron and shook it off, but it's clear now that LeBron clearly did not want Shaq but yet again fooled everyone as he publicly welcomed Shaq and embraced him as a teammate and a leader.
With all the "Friendship" talk, with all the "chemistry" talk, with all the pre-game antics and events outside of the facility, with all the BS of meeting each other's family, and working out and visiting each other in the off-season, it's no wonder Mo felt the way he did. Mo and the other Cavs were actually betrayed on a greater level than any of us fans. If you think about it, very few of us, if any, knew LeBron personally. Yes, it's clear that LeBron took a personal shot at the organization, the fans, and the City by going on TV and dubbing the debacle as "The Decision". This was a purposeful and premeditated act to directly coincide with the other Cleveland disasters.
Mo and the other Cavs, however, DID personally know LeBron and he purposely fooled them into thinking he was a true friend to them. A true friend would not have planned his exit so far in advance while leading everyone (including his teammates) to believe that he was happy, that he was fighting for a championship, and that the team was like a "Family". A true friend wouldn't have sabotaged many player's only chance at a title by tanking the playoff series against Boston. It was clear even before game 5, that his teammates were busting their ass trying to beat the Celtics but they just weren't good enough without full effort from their superstar. For whatever reason (Whether it was because of Gloria, or his planned exit, or both), he was unwilling to give it, then completely gave up in game 5 and lost the series. This was an incredible act of betrayal to the fans, to his "FRIENDS" ,to the city, to Dan Gilbert, to Coach Brown, and the entire organization.
So with all this taken into account, it's pretty easy to understand the thought process and level of hurt that Mo went through this offseason. Someone who he trusted, who he considered to be a true friend, purposely sabotaged his best chance at a championship, shut him out in the weeks leading up to "The Decision", and clearly carried out his exit plan that had been set for what appears to be several years. Think about it, how would you feel if someone you had grown to be "close friends" with ruined your chance at your dream, shut you out, and basically said that "you're not good enough to play with me, I'm going to play with my real friends"?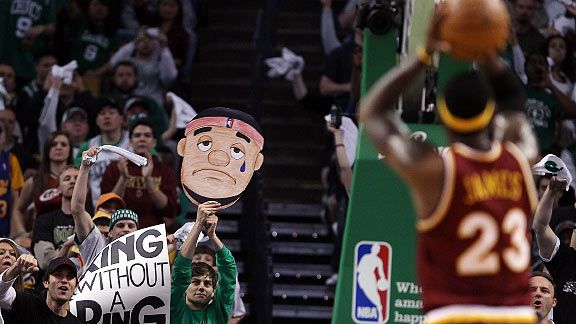 I, and just about every Cavs fan or basketball fan for that matter, have been asking the question since the Cavs got bounced from the playoffs. What happened? The team that won 60+ games in back to back seasons, the team with the 'Best Player in the NBA', and the team who appeared poised for a title run lost in such a puzzling way in the SECOND round of the playoffs.
Even more shocking than the fact that the Cavs lost in the 2nd round, was the WAY they lost. Its been questioned and analyzed to death, but there are a few insights that local fans have heard whispers about, but they've been covered up by the main stream local & national media. I'm not going to rehash the details of the season & series, but I would like to take the opportunity to point some of the things that have been whispered for months and that some of you may or may not be aware of.
Game 2: The Cavs obviously looked very flat, unenthused, and had little to no intensity. While it hasn't been reported by local or national media, it is a fact, that LeBron took the team out after the MVP ceremony in Akron (the night before game 2). While LeBron doesn't typically drink much, if at all, being out until 5AM the night before a game certainly wouldn't be the organization's, coach's or fan's ideal situation for preparation for a playoff game. Unfortunately, this seems to be a fairly common occurrence in the NBA. Other NBA 'Stars' have been known to go out to various clubs the night before games (Amare Stoudemire, Carmelo Anthony, and countless others). Who knows how often this happened with the Cavs in the LeBron years and what impact it had on their performance in game 2, but it is certainly a potential answer for such a flat performance in such a critical game.
Gloria: We all know the rumors that LeBron found out about Gloria's sexual relationship with Delonte West. For what it's worth, I have a source who is a long-time sportswriter. Over the years, he came to be personal friends with a current Cavs player. He didnt go public with this information, so its not like he's saying this for his own benefit. According to a conversation he had with the Cavs player, the rumors are 100% true. He says LeBron brought some food up to Gloria's hotel room to surprise her and Delonte, in a towel, opened the door. LeBron and Gloria argued over it and ultimately Gloria said 'I'm grown, I can do what I want and this doesnt concern you'. Understandably, LeBron was upset. But what is unacceptable to me, and most Cavs fans is the way he handled it on the court. Even before the infamous game 5, after his ridiculous performance in game 3, he seemed completely flat & disinterested. In Game 4, he was deferring way too many shots as his teammates struggled to keep the game close. The Cavs pulled within striking range and waited for their 'King' to take over in the 4th Quarter and close the game like he'd done so many times. He kept deferring and then….
Game 5: Ok, no details here. Its disgusting to Cavs fans and completely unacceptable. But a little more info from the sports writer source. The rumors of Shaq confronting LeBron are according to him, also true. At halftime after LeBron appeared completely disinterested, and with the entire team knowing about Gloria/Delonte, Shaq is said to have grabbed LeBron by his jersey and threw him up against the wall saying 'don't you dare fuck this up for us'. Obviously, Shaq's attempt to be the leader that LeBron couldn't be failed as the 'King' went on to have one of the worst playoff performances by an NBA 'superstar' in the history of the league. It seems to some that LeBron wasn't just hurt and upset about his mom, but it was more of a 'fuck the Cavs, I'm leaving, you betrayed me, and I'll make sure we don't win' attitude.
Obviously, there are other questions that we need answered, but will probably never get those answers. Such as, why did the team quit playing late in game 6, why did Mike Brown quit coaching in game 6, when did LeBron decide to leave, etc.? But for those who haven't heard some of these whispers, hopefully this will provide you with at least some insight as to the massive failure that was the Cav's 2010 playoff run.